Ten people were taken to hospital after being assessed on the runway
At least 10 people have been taken to the hospital after a plane landed at JFK with about 100 people on board reporting feeling sick, federal and local law enforcement sources say. Adam Kuperstein reports.
WHAT TO KNOW
A plane from Dubai was quarantined at John F. Kennedy Airport Wednesday morning after about 100 passengers said they felt sick

A large emergency response met Emirates flight 203 on the runway where the plane was held for hours as passengers were assessed

At least 18 people have been confirmed sick on the flight, with 10 taken to hospital
At least 19 people have been confirmed sick after a plane landed at John F. Kennedy Airport Wednesday morning with dozens on the packed international flight reporting feeling ill.
Emirates Flight 203 from Dubai was quarantined on the runway for hours after many of the 521 passengers and some of the crew reported feeling ill on board the flight. The cause of the outbreak has not been confirmed, but the CDC said passengers reported coughing and fever. Some passengers were also reported to be vomiting.
The office of NYC Mayor Bill de Blasio said 10 people were taken to hospital, while another nine were sick but declined medical attention. Their symptoms pointed to the flu, his office added.
In Pictures: Plane Quarantined at JFK With Hundreds on Board
Erin Sykes, who was on the Emirates flight, told News 4 New York some passengers were sick before they even boarded the plane. "When they were standing in line to board, people were coughing," she said. "People were not covering their mouths."
Sykes became so concerned by the situation that she asked a flight attendant for a mask before the flight took off, she said. The attendant, however, said there weren't any on board. "I proceeded to put my jacket and the blanket over my head for the entirety of the flight because so many people were coughing, and so dramatically," she said, adding that some passengers were sick to their stomachs.
The flight landed about 9:10 a.m. to a huge emergency runway response. Port Authority Police and the Centers for Disease Control and Prevention were waiting in a staging area to check passengers.
Chopper 4 was over the scene at landing, where about seven ambulances were lined up to treat sick passengers, as well as dozens of other emergency response units including police and Homeland Security.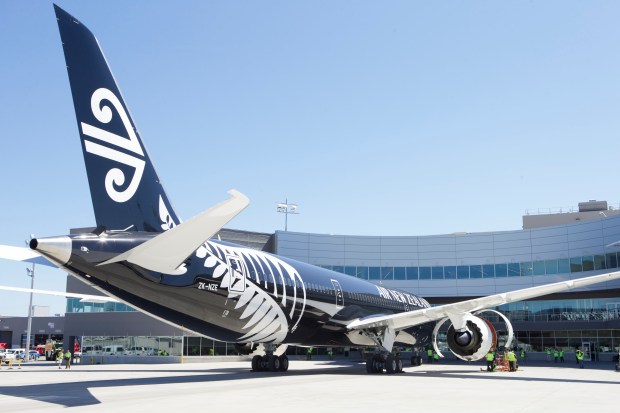 Emirates issued a statement confirming that some passengers had taken ill.
In Pictures: Plane Quarantined at JFK With Hundreds on Board
The mayor's office initially said the flight had stopped in Mecca, which is experiencing a flu outbreak, and that may be a possible source of the outbreak. A spokesperson later said the flight was in fact direct, but that some of the passengers had previously been in Mecca.
The CDC said passengers who are not ill would be allowed to continue with their travel plans.